AMSSM FOUNDATION AWARDS
HARRY GALANTY YOUNG INVESTIGATORS AWARD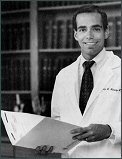 $500 Cash Award and plaque is presented to the individual with the best new research.
The Harry L. Galanty, MD Young Investigator's Award is presented at the AMSSM Annual Meeting for the most outstanding research presentation by a member who is a sports medicine fellow or who has recently completed fellowship training. The award was established in 2003 to honor Harry Galanty, MD, a charter member of the AMSSM, who passed away in 1999 at the age 36.

Harry's contributions to sports medicine combined clinical service, and a commitment to teaching and research. He had established himself as a leader in each of his post-fellowship positions, and he accomplished this within just a few years of completing his training. Beyond these achievements, Harry was a respected colleague and friend to many in the sports medicine community. The AMSSM is proud to be able to offer this award in his memory.
2016 - Drew Glover, MD
2015 - Michael Donaworth, MD
2014 - Drew Watson, MD, MS
2013 - Brett Toresdahl, MD
2012 - Jessie Fudge, MD
2011 - Irfan Asif, MD
2010 - Alan Zakaria, DO, MS
2009 - Jessie Fudge, MD
2008 - Ashwin Rao, MD
2007 - John Su, MD, MPH
2006 - Matthew Gammons, MD
2005 - David Berkhodd, MD
2004 - Jon Drezner, MD
2003 - Thomas Kohl, MD
The AMSSM Foundation invites you to submit your nomination for the Founders Award to be presented at the AMSSM Annual Meeting. A $500.00 cash award and plaque is presented to the individual, group or organization who exemplifies the best we can be or do in Sports Medicine. Nomination must be submitted by January 5, 2017. Click here to submit your nominee.
2016 - Bill Dexter, MD
2015 - Bob Kiningham, MD
2014 - Margot Putukian, MD
2013 - Warren Howe, MD
2012 - Craig Young, MD
2011 - Chris Madden, MD
2010 - Stephen Paul, MD
2008 - Connie Lebrun, MD
2007 - Jim Moriarity, MD
2006 - Randall Dick - Vito Periello Jr., MD
2005 - Elizabeth Arendt, MD
2004 - John A. Bergfeld, MD
2003 - Cindy Chang, MD
2002 - James Whiteside, MD
2001 - Karl B. Fields, MD
2000 - David Hough, MD
BEST OVERALL RESEARCH ABSTRACT
2016 - John Leddy, MD
2015 - Alison Brooks, MD, MPH
2014 - Nathaniel Nye, MD
2013 - Anthony Beutler, MD
2012 - Bill Meehan, MD
2011 - Alison Brooks, MD, MPH
2010 - Irfan Asif, MD
2009 - Cynthia LaBella, MD
2008 - David Berkoff, MD
2007 - James Glazer, MD
2006 - Robert Hosey, MD
2005 - Kevin Burroughs, MD
2004 - Brian Sennett, MD
2003 - Elizabeth Joy, MD
2002 - Mark Lovell, PhD
2001 - Margot Putukian, MD
2000 - Alex Lai, MD Thomas Kohl, MD
2016

Rathna Nuti, MD
Luci Olewinski, MD
Joshua Rothenberg, DO
David Siebert, MD
Jillian Sylvester, MD
Isaac Syrop, MD
2015

Nicole Boniquit, MD
Samuel Chu, MD
Heather Grothe, MD
Andrea Kussman, MD
Lindsay Ramey, MD
Karin VanBaak, MD
2014

Michael Baria, MD, MBA
Drew Duerson, MD
Brian Kim, MD, MS
Caitlyn Mooney, MD
Michelle Napoli-Kilburg, MD
Joshua Sole, MD
2013

Cheri Blauwet, MD
John Lucas, MD
Drew Watson, MD, MS
Nate Waibel, MD
2012

Maime Air, MD
John Spittler, MD, MS
Brett Toresdahl, MD
Jeff Westerfield, MD, MBA
2011

Adam Abdulally, MD
Erik Brand, MD, MSc
Daniel Herman, MD, PhD
2010

Jessie Fudge, MD
Jennifer Malcolm, DO
Richard Sisson, MD, MS
2009

Irfan Asif, MD
Lauren Elson, MD
Amanjit Sekhon, MD
2008

John Baldea, MD
Damond Blueitt, MD
Eric Parks, MD
2007

Marci Goolsby, MD
Lynn Morski, MD
Chad Palmer, MD
Jeffrey Smithers, MD
2006

Alison Brooks, MD
David Kruse, MD
John Wilson, MD
2005

Casey Batten, MD
Jessica Ellis, MD
Joel Kary, MD
2004

Chad Asplund, MD
Spencer Richards, MD
Carlos Soto, MD
2003

David Priebe, MD
Adam Redlich, MD
AMSSM SPORTS MEDICINE RECOGNITION AWARD
2006 - Donald Cooper, MD
2005 - Mark Lavallee, MD
2004 - Barbara L. Drinkwater, MD
2002 - Warren B. Howe, III, MD
2001 - Arthur Bok, DO
2000 - Brian Halpern, MD