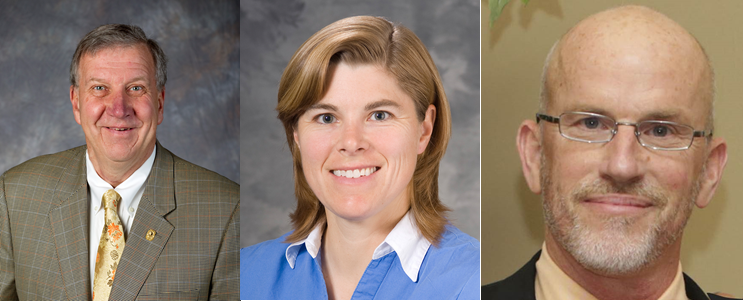 LEAWOOD, Kan. – The American Medical Society for Sports Medicine (AMSSM) selected Alison Brooks, MD, MPH (m.) and James MacDonald, MD, MPH (r.) as the two Junior Traveling Fellows for AMSSM's International Traveling Fellowship program tour to South Africa. Drs. Brooks and MacDonald will join AMSSM Founder Doug McKeag, MD (l.), who will serve as Senior Traveling Fellow for the October 8-22 tour.
"The opportunity to address our South African colleagues on current sports medicine issues is what makes this Traveling Fellowship program so timely and unique," said Dr. McKeag, who is credited as one of the "founding fathers" of Primary Care Sports Medicine. "There is much to be learned on both sides. It is an honor to represent the AMSSM and its members on this exchange. We can only be enriched by learning from South Africa. This is exactly what US sports medicine needs."
In its second year, the Traveling Fellowship program offers an opportunity for academic exchange and clinical immersion for sports medicine physicians to teach and learn sports medicine on a global level. AMSSM hosted International Traveling Fellow Dr. Jon Patricios from South Africa at the 2015 Annual Meeting held in Hollywood, Florida. "The South African Sports Medicine Association is delighted to host AMSSM travelling fellows Drs. McKeag, MacDonald and Brooks," said Dr. Patricios. " In particular we are delighted that our national conference will feature them as invited international speakers and know that they will add value particularly in the field of paediatric sports medicine."
The purpose of the program is to encourage academic interchange, share research and explore common clinical interests amongst international sports medicine leaders. "A highlight of the trip will certainly be the privilege to attend and present at the SASMA Congress. This will be a unique venue to meet a multitude of individuals who are sports medicine leaders in both South Africa and internationally," said Dr. Brooks, who specializes in pediatric and adolescent primary care sports medicine at the University of Wisconsin.
The Traveling Fellowship tour will include stops in Cape Town, Pretoria and ending with an AMSSM symposium as part of the SASMA Congress Convention in Johannesburg.
"I am looking forward to getting a first-hand glimpse of the sport and sports medicine worlds in South Africa," said Dr. MacDonald, a pediatric expert at Nationwide Children's Hospital in Columbus, Ohio. "The sports medicine research that has emerged from South Africa has been impressive in its quantity and quality, its scope and its range. I look forward to networking with these world leaders."
This program was made possible by the generous support the AMSSM Foundation received from DJO Global. AMSSM wishes to thank DJO Global for its educational support of this exchange of ideas and knowledge by world leaders in sports medicine.
About the AMSSM: AMSSM is a multi-disciplinary organization of 2,800+ sports medicine physicians dedicated to education, research, advocacy and the care of athletes of all ages. The majority of AMSSM members are primary care physicians with fellowship training and added qualification in sports medicine who then combine their practice of sports medicine with their primary specialty. AMSSM includes members who specialize solely in non-surgical sports medicine and serve as team physicians at the youth level, NCAA, NFL, MLB, NBA, WNBA, MLS and NHL, as well as with Olympic teams. By nature of their training and experience, sports medicine physicians are ideally suited to provide comprehensive medical care for athletes, sports teams or active individuals who are simply looking to maintain a healthy lifestyle. www.amssm.org
###