The American Medical Society for Sports Medicine (AMSSM) is leading an effort to train physicians around the world in electrocardiogram (ECG) interpretation in athletes. In partnership with the FIFA Medical Assessment and Research Center (F-MARC), the British Journal of Sports Medicine (BJSM), the European Society of Cardiology (ESC) Sports Cardiology Subsection, the Pediatric & Congenital Electrophysiology Society (PACES) and other leading U.S. cardiologists, we have developed an online resource and comprehensive training module targeted for physicians around the world to gain expertise and competence in ECG interpretation.

Sudden cardiac death is the leading cause of death during sport. Whether obtained for screening or diagnostic purposes, an ECG increases the ability to detect underlying cardiovascular conditions that place athletes at risk. There is a critical need for physician education in modern ECG interpretation that distinguishes physiologic adaptations in athletes from findings suggestive of underlying pathology. In the U.S. and many other countries, there is a shortage of physician expertise in the interpretation of an athlete's ECG.

The effort to develop the criteria began with an ECG Summit in Seattle on Feb. 13-14, 2012, bringing together many of the world's premier sports cardiologists and sports medicine physicians, including participants from the U.S., Italy, Sweden, U.K., Belgium, Switzerland, Brazil and Qatar.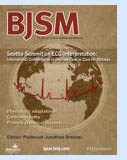 Then a year later, the February 2013 issue of BJSM featured four key papers on ECG interpretation in athletes developed by a team of international leaders in sports cardiology and sports medicine with the intent of better identifying athletes at risk of sudden cardiac death. AMSSM President Jonathan Drezner, MD, served as Guest Editor for this BJSM issue. Click Here to read the four key papers.

Each of the papers ties to an online training module that is hosted by BMJ E-learning (and linked through the AMSSM website). This state-of-the-art E-learning resource is freely accessible to any physician worldwide and will help create a larger physician infrastructure that is skilled and capable of accurate ECG interpretation in athletes. Improved ECG interpretation may identify athletes with at-risk disorders and help prevent sudden death in sport.